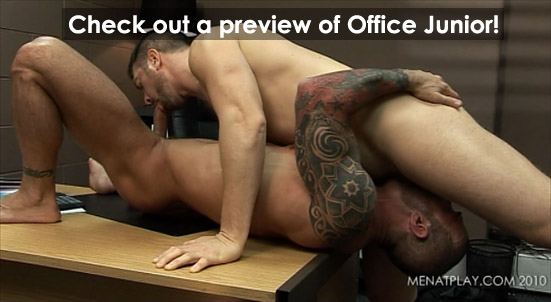 You never know what's happening behind closed doors - not even at work. Junior Stellano and Dillon Buck in
"Office Junior" at Men At Play
certainly prove this in every steamy detail of their intense sexual passion for each other that begins, of all places, in an office restroom. Men At Play is the indisputable king of suit and tie sex, and each of these sexy men is dressed sharp and handsome in his suit and tie. But underneath, these two hot hairy hunks are too sex crazed to pass up an opportunity when it's so close, like Dillon teasing Junior Stellano while facing the urinal with his thick hard dick popping out his pants. And it works. Junior starts stroking Dillon Buck and playing with his big cock and balls, and is soon
on his knees swallowing all of Dillon's thick cock down his throat.
Hey, look at the pic above, and that's nothing compared to the video, which is full of serious cock sucking including sixty nine!
With no time to waste, they move to an office where things heat up even more. The two kissing men are all over each other and suddenly buttons fly when Dillon literally rips open Junior's dress shirt to expose his super hot muscular hairy chest. Folks, that shirt ripping is one of the hottest, sexiest moments in the movie - and there's lots more. The reaction of Junior is so real that you can watch him slide right into ecstasy. Dillon Buck is all over that gorgeous hairy chest and then uses a tie to bind Junior's hands behind himself. Now down again on goes Junior on Dillon's thick hard cock. The two hairy hunks get naked and Junior takes his place laying across a desk, yearning to be fucked. They sixty nine each other, and then Dillon drives his tongue up Junior Stellano with a good ass rimming. Slowly Dillon feeds his hard cock deep into Junior's hairy ass to give him a long hard fuck. Who wouldn't want Dillon's meaty thick cock, and who wouldn't want a tattooed muscle hunk as sexy and sweet as Junior Stellano in the first place!