What a nice piece of... furniture!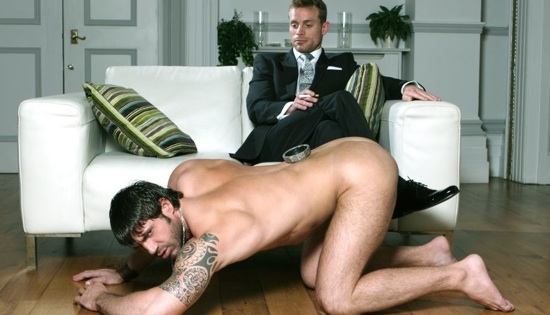 Sometimes the BOSS expects a lot from his staff.
Men At Play
are no different when it comes to what they expect of theirs too. As a matter of fact, thanks to this unique studio and their sexy office vignettes, we now have a boy here at the loft who's job it is to do what ever needs doing. From running errands, picking up office supplies, answering the phones, wearing heels, suckin our cocks... he's one of the best assistants we have EVER had and he's about to get a raise. Shhh, don't tell him.
In this scene starring Axel Brooks and Neil Stevens, we are treated to what a high powered mogul gets his needs met after a long day at the office dealing with incompetent staff, a directionless driver and bumper to bumper traffic. Its all about servicing your master with a smile. But, do not give him any lip unless you want to get a throat full of cock. Which reminds me... oh, office boy... come hither. While I unload, Log on there and watch how it's done and done right!

View the full scene on MenAtPlay.com
18 U.S.C 2257 Record-Keeping Requirements Compliance Statement