See More Of Muscle Man Zeb Atlas on JakeCruise.com
Imagine your hands rubbing that hot smooth muscular body ;)
Zeb Atlas is at 
JakeCruise.com
and he is ready to be serviced. His smooth fucking ripped body just screams sex, he's the kind of guy that can take WHATEVER he wants from WHOEVER he pleases and it comes as no surprise he's giving hot daddy Jake the honor of touching his perfect body. Zeb just lays their and let's Jake give him a full service body rubdown, letting Jake carress every inch of his god like body before he let's him service his finer assets.
Jake looks like he's in heaven when he gets to eating Zeb's hot smooth muscle butt, no doubt he wants to plow it, but with a guy as fucking hot as Zeb you really gotta do what he wants, otherwise he could beat the living shit out of you without breaking a sweat! Jake eventually get's down and dirty and sucks Zeb's cock like a good daddy, and Zeb shoots a nice fat load. As an added bonus, Zeb shows off again ass he cleans off that massive hunky body in the shower.
For more muscle action JakeCruise.com has on of porn's hottest daddies with some of the webs sexiest men!

Give that muscle boy what he really wants - Work that dick!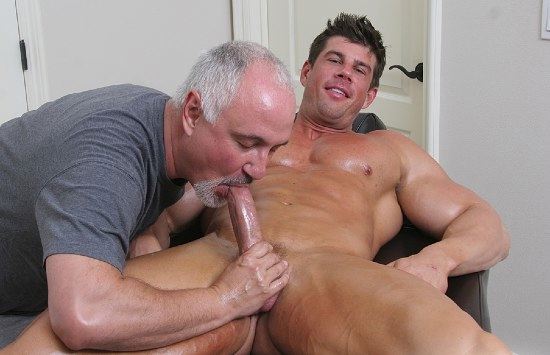 View the full scene on JakeCruise.com - Updates twice a week!
18 U.S.C 2257 Record-Keeping Requirements Compliance Statement