To see more of Hagan in action, check out ChaosMen.com
God damn! Hagan from 
ChaosMen.com
is a complete fucking stud. This guy has no discernible ethnicity but he's got the best in the world of EVERYTHING. He has a smug sexy look on his face, and can you blame him? With a body like that, he's got more than enough to back up his cocky demeanor. His chest is fucking awesome, perfectly defined, not to dredge up tired sayings, but FUCK I COULD DO LAUNDRY ON THERE! I know you can't tell from these pics, but this fucker is TALL, 6'4",  in other words, he's all man from head to toe.
The behind is no disappointment either, starting at the top, a sexy tattoo going shoulder to shoulder, heading farther down, one of the most beautiful asses I've seen in quite a long time. I could go at his perky behind for hours, that ass just looks so fucking tasty! I love how Hagan face just screams, "Yeah I know I'm fucking hot, and you want it" the entire scene, theres something to be said for a guy with the goods to pull that off. I want to see Hagan putting his god given physique to a higher purpose, ravaging some young bottoms ass for us all to watch and enjoy!
For some of the hottest action on the net,  ChaosMen.com has got you covered.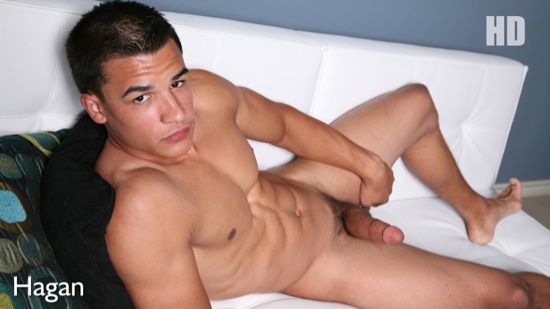 You can see Hagan in action at ChaosMen.com
View the full scene on ChaosMen.com
18 U.S.C 2257 Record-Keeping Requirements Compliance Statement