Shall we have some coffee and milk?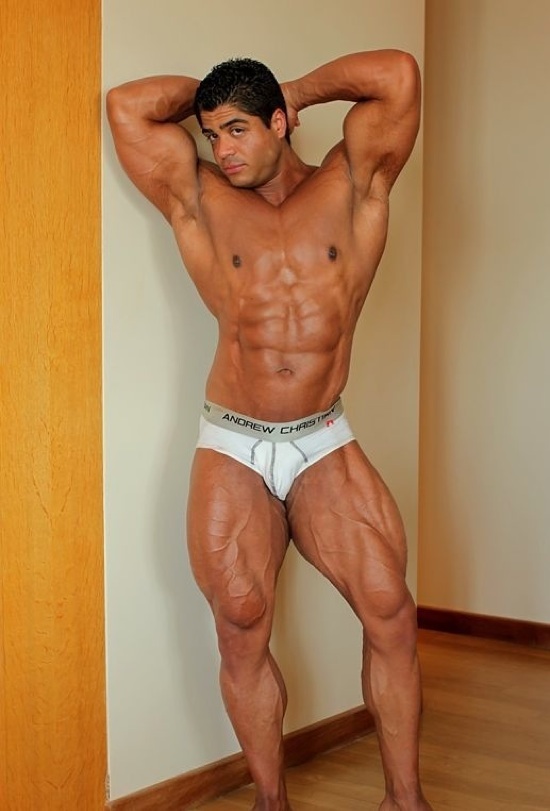 Brutus Difino from
MuscleHunks.com
reminds me of a pit bull. In fact Brutus would be a great name for a pit bull. Brutus implies strength, but a certain brutality. But pit bulls are big sweeties when you get to know them - they'd be lap dogs if they could just fit only your lap.
And like pit bulls, Brutus is big and muscular. While he might be highly intelligent, you can't tell it from the pictures. (My best friend is a bit like that - first impression is a big muscle guy, but as you get to know him you find out he's actually highly intelligent and was a math major at Cornell). Anyway, Brutus has a solid, earnest demeanor. He looks like the type of guy you could depend on.
But what you're really looking at are his big muscles and his hard cock. You want a big hunk of meat like him in bed with you. You want his arms around you as you sleep. But that's where his demeanor comes in - he looks like boyfriend material. When he gets horny in the middle of the night and wakes you up by fucking your ass - you're getting fucked by someone you can truly love - someone you can devote your life to - 'cause he's a big, solid, dependable lug who's also incredibly hot and sexy.
If you like your men big and muscly then you gotta check out the studs over at Muscle Hunks. There's some serious muscle over there - just like you want next to you in bed every night ;)

See More Hot Muscle Guys At MuscleHunks.com
18 U.S.C 2257 Record-Keeping Requirements Compliance Statement