If you haven't noticed by now, unlike a lot of the muscle blogs, I cast a pretty wide net when it comes to defining "muscle". A lot of the muscle blogs are pretty clean cut and "pretty". But thugs often have great bodies as is amply clear in this video from
RawRods.com
.
I mean just this morning this little black bodybuilder came over and had me fuck him and dump a load in his ass. I'm getting a lot of black muscle ass since moving to Harlem and I'm lovin' it! Some of it's pretty muscle boys, but some of it are thugs. I always find it hot to fuck a thug - you wonder if it's out and if not whether his girlfriend or thuggy friends know he likes guys to fuck him and dump loads in his hole. :)
Anyway - this scene... The hot muscle top is Chase Carter. The little bitch boy bottom is Morgan Manson. Chase is incredible. I mean look at those muscles. And a good muscular top just fucks better - they put all those muscles to use and can really slam into an ass. And the muscles give them greater stamina... And that's not even going into Chase's dick... It's one of those beautiful big black cocks that bottoms just love - and he clearly knows how to use it.
The little bitch boy is pretty typical of what I'm finding in Harlem. There are a lot of black guys who just love getting fucked and taking loads. I'm white and they love being my little slave. It's "whatever you want daddy"... Black bitch boys just know how to please a top.
If you wanna see more hot black muscle guys who know how to fuck - check out Raw Rods - you'll like it ;)

I'd love to give my ass to this pig, so I could be rimmed like that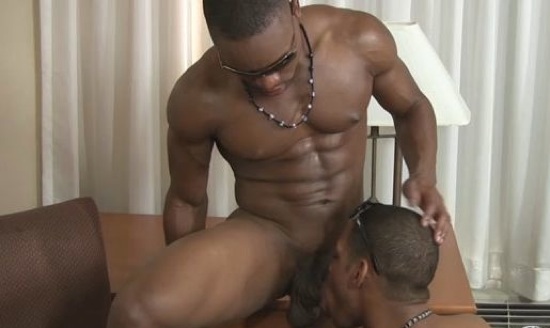 If you want HD-quality bareback porn featuring black guys - Join RawRods.com
18 U.S.C 2257 Record-Keeping Requirements Compliance Statement